I know it's Saturday, but Black Friday started yesterday around here. Most people think of this when they hear "Black Friday"
(Scooter sitting in a shoe store in front of stacks of shoes)
But THIS is what Black Friday is at my house! All the black boys hanging out together! Yippy! Foley came to visit, to add to our black blur.
Foley and I shared some down time on my hammock
(Foley down and Scoot sitting on the dog hammock)
And meal times are always fun!
(Foley, Dagan and Scoot watching their breakfast be made)
Too much watching leads to this though:
(drool drips on the floor)
Here is more of our blur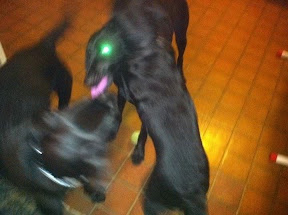 (a blur of black dogs wrestling)
While the people eat, we did the inspecting
(three black butts under the table)
But we sure are cute when we try to be.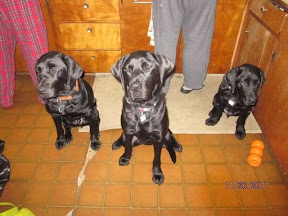 (Foley, Dagan and Scooter sitting)
We even had a little gold thrown in for good measure
(Golden Lester under the table)
(Leater and Scoot sniffing around the yard)
Yup, Black Friday is good around here! But it leaves me SO sleepy!
Wags,
Scooter