So, part of the reason I was so super sleepy last night was Mrs Denise's fault! I am pretty sure she is one of my biggest fans. Mom's plan was for me to stay home and chill yesterday afternoon, but Mrs Denise invited ME to her
Turkey Party
and of course I had to go!
The whole party was to collect frozen turkeys for
The Redwood Gospel Mission
. Duh! I totally had to go be cute for that!
The Turkey Party collect 216 frozen turkeys! That's a lot of gobble!
(Scooter with a small portion of the turkeys, surrounded by coolers full of turkeys)
While we were there, we got to hang out with one of the guys who helped train
Poppy
. How cool to run into random people who know what I am all about! (Cause I am so much more than a cute face!)
The peeps did lots of talking, so I did lots of pretending to sleep while gathering dirt on the peeps. Hehehe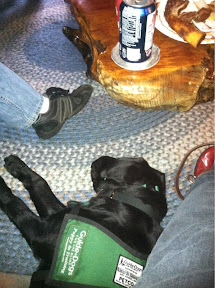 (Scooter asleep by the coffee table)
I may have snoozed a bit - do you know how hard it is to ignore so much food?? AT puppy nose level?? So tiring - all that being good!
I was super excited to be a part of Thanks for Giving! Love being able to help others! What are YOU during this holiday season??
Wags,
Scooter